Blog
---
Great News for Trout Anglers

The two finest outfitters in South America have joined forces, and Nervous waters is excited to announce an exclusive collaboration with Patagonia River Guides (PRG) at our Northern Patagonia Lodge (NPL) operation.
By joining together, Nervous Waters and Patagonia River Guides bring the best in guiding, water access, and amenities to anglers seeking to fish the legendary waters of Northern Patagonia.  Like Nervous Waters-Patagonia River Guides has revolutionized guided fishing in Patagonia-employing only the best equipment, service and safety standards that are cutting edge, with the best tented camps anywhere outside of Alaska. This insures that no matter where Nervous Waters clients fish in Argentina, they are assured the highest quality sport, service, accommodations, and amenities.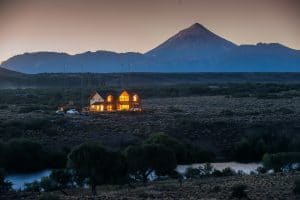 About Nervous Waters:
Nervous Waters operates fine fishing lodges in three countries, Argentina, Chile, and the Bahamas, where each lodge raises the bar for great fishing, accommodations, and regional services. In addition, all of our well-appointed lodges have been uniquely designed to complement the setting in which they are located, and we focus on two things-great fishing and great service.
About Patagonia River Guides (PRG):
The Patagonia River Guides experience is a unique blend of inspired guiding, varied fishing, beautiful scenery, interesting culture, lasting friendships and unrivaled service. There are few places in the world where you can enjoy the diversity and quality of trout-fishing offered in Patagonia, but careful planning and execution are critical to getting the most out of your fishing trip. PRG's philosophy to fishing is straightforward: fish the best rivers at the best times with the best guides.

Northern Patagonia Lodge:
Northern Patagonia Lodge's location in the heart of Northern Patagonia makes it the strategic hub for visiting anglers from around the world. In addition to floating and wade-fishing the Chimehuin river, you'll also find incomparable trout fishing on the nearby Collon Cura and Alumine rivers, as well as on trophy lakes such as Huechulafquen, Paimún, Tromen, and Curruhe.
Off the water, relax in style enjoying ultimate service, excellent cuisine, and a full selection of Argentina's renowned wines back at the lodge. And by all means take advantage of our two-night "unplugged" deluxe tent camp option for a truly one-of-a-kind Patagonia experience.  The camps are luxurious but you will be off the grid with nothing but you, the trout, and the wilds of Patagonia.