Kau Tapen Lodge – Week 1: January 1st to 8th, 2022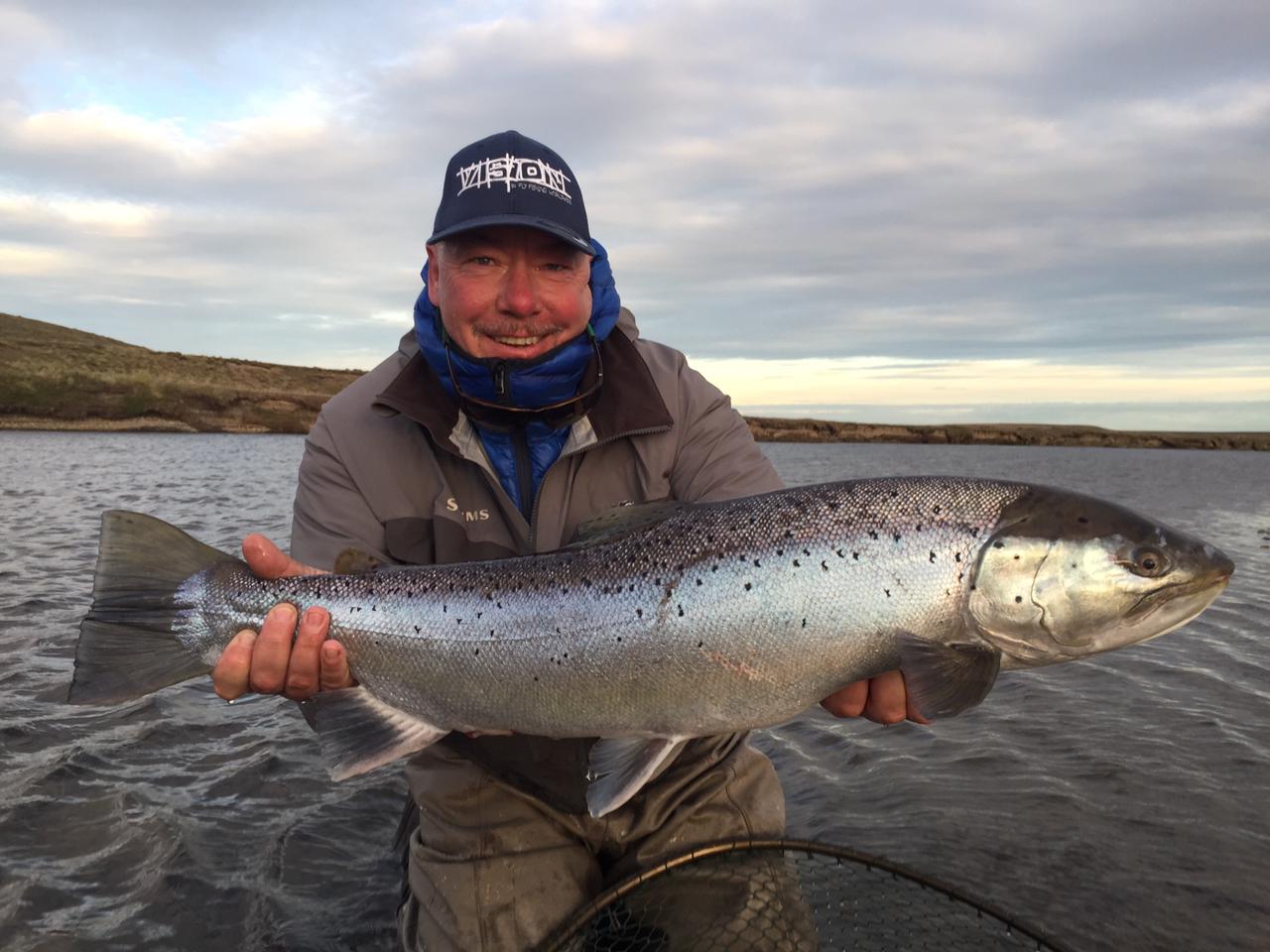 Before the start of the new year, we were excited to welcome our first group of international guests to Kau Tapen from Sweden and the UK. It was important to get a fish in the net to keep a continuous yearly record for the lodge for 2021, as the last fish was netted for a guest in March of 2020. We wasted no time and many smiling guests returned the first evening with some success from the lower river. David landed a beautiful 15lb fresh fish on a sunray to end the year and kick off a special week with us. All staff and guests came together for a New Year's toast, wishing for bright things in 2022! We certainly found a few of those on the river this week!
            Despite the early success, our guests were met with challenging conditions consisting of low water and strong winds. To combat this we tried a variety of tactics but had the most success with S3 tips, long leaders, and flies to match the conditions at hand. During bright days the green machine seemed to be the fly of choice, while small traditional salmon tubes and nymphs also had their moments. When the clouds rolled in and in the last hour of fishing before sunset, leeches and sunrays took most of the fish. It was not easy fishing at times, but the persistence of our guides and guests resulted in some fantastic catches.
            Mid-week, a large high tide was met with anticipation, and pushes of fresh fish were spotted in both the upper and lower river. More sea-trout were seen rolling, especially in the last few hours of the day, and fishing began to pick up. In the upper river, Lars had a fantastic evening hooking 5 fish and landing 4, the biggest being a 16.5lb fresh beauty and Timo had 4 in a single session as well. These moments make all of the casts and searching worth it, as there is nothing more exciting than swinging a fly to a cooperative group of fish that have just made their way in from the ocean.
            The Menendez rose a bit with some rain before retreating to its low level again. However, this was enough to bring in a push of fish and the small tributary continued to produce early in the season. Some large fish were present here as well, including a heartbreaker for Timo that sadly came unbuttoned after an intense battle on the last day. A few fish in the mid-teens were landed as well and many more were seen rolling. We can't wait to spend more time on this intimate river as the season progresses. 
            Of the sea-trout landed through the week, there were some notable fish that were hooked, lost, and finally landed. Our guests were privileged to play with a few true monsters in the 20lb class, providing fish stories for years to come. One must be both skillful and lucky in landing a beast like this, as these are smart old fish that know every trick in the book. A few tales of smashed leaders and monster sea-trout echoed around the lodge on quite a few nights, but it was Iyrki with guide Christian that landed a fish that we'll be talking about for weeks! Mid-week on the upper river, Iyrki hooked and fought a beast of a fish that took his leech and after 5 screaming runs downriver Christian was able to get it into the net. The fish measured 97cm with a girth of 57cm and weighed 29lbs! After a few photos, she was sent back to the Rio Grande making a lifetime memory for all involved. This is one of the biggest fish landed during the beginning of the season in recent memory and hopefully the first of many trophies in 2022.
            As we await our next guests, we could not be more excited to share these waters with everyone from around the world once again. For current updates from the river, be sure to follow our social media accounts (@kautapenlodge and @nervous_waters). Thank you for joining us to appreciate this special place and we hope to see you all on the water soon!
Tight Lines,
Max Kantor – Kau Tapen Guide 2021/22