Suindá Lodge – Season Opening Fishing Report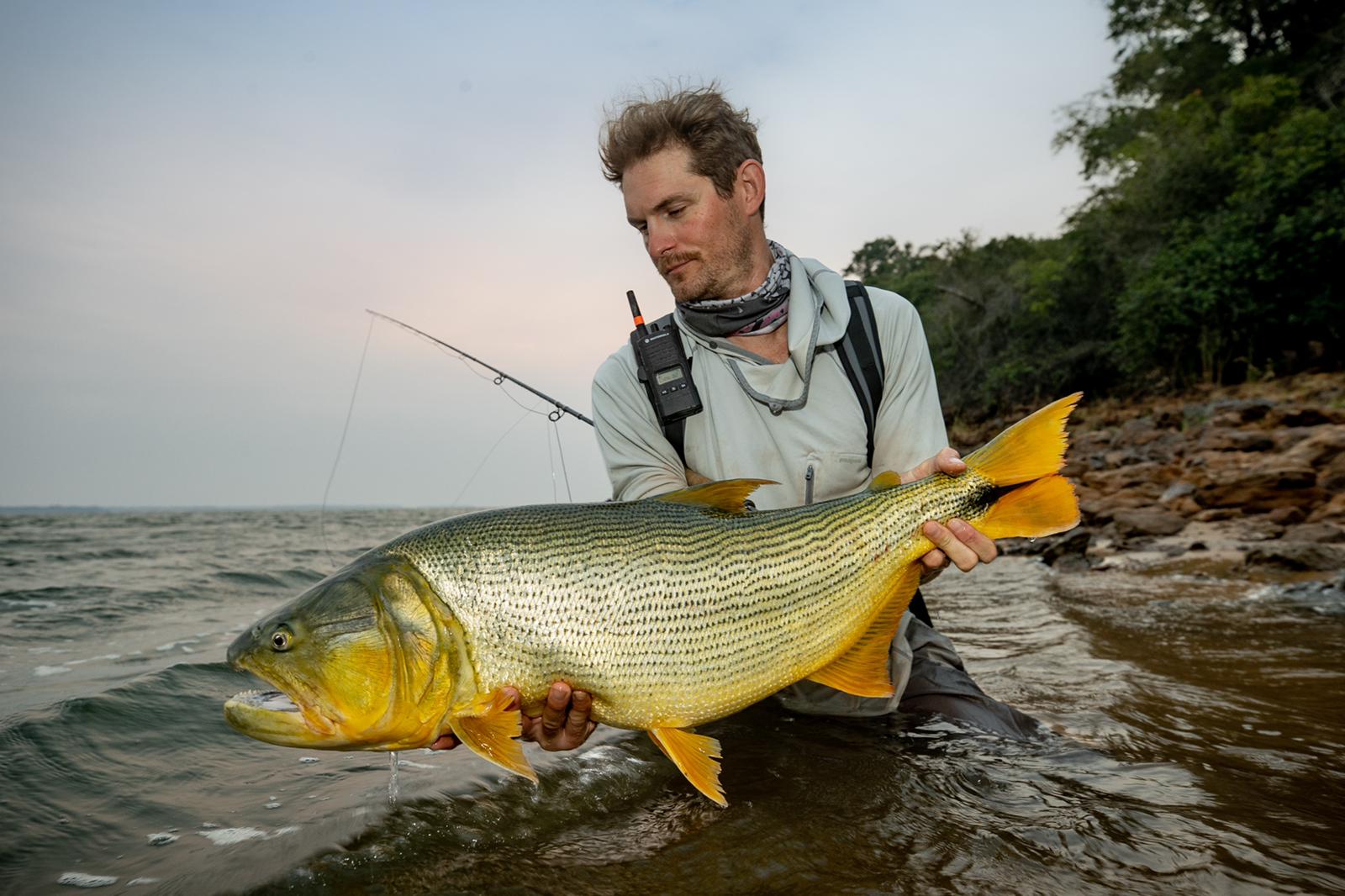 After being away from the river for a long time because of the COVID-19 pandemic, we are currently facing the longest drought in recent memory. These conditions have resulted in the lowest river levels in 100 years. These things really make us think about what mankind is doing with our world and climate. We are, however, glad to inform you that the current water level is not affecting our dorado fishing. They are here and we are encountering them in the fastest water we can find. Fast water around logs, sandbar edges, sandbar flats, and rocky structure. The key is working these places with leaders and flies specially designed for our current conditions, something our guides specialize in. 
Some big dorado have already been landed, the largest being a 35 pounder landed by Marina Gibson, her biggest dorado ever, and our largest this season. Congrats Marina! 
Other guests landed 20 plus pound fish and some other good size fish. 
The Pacú fishing this season has been tough because many of the fruit trees are far away from the water and are not fruiting thanks to the ongoing drought. Most of the banks that are usually productive are quite slow and must be worked with the best technical cast possible. 
What our season has lacked in Pacú fishing, has been made up by Pira Pita. For anglers that love fishing with dries, Pira Pita fishing presents a fascinating and really fun challenge. These omnivore feeders take imitations of bugs and fruits. However, they are very intelligent and not easy to fool. The presentation must be precise and perfect, otherwise, they will refuse the fly. Long leaders, perfect flies, and bite wire are required.
Highlights: 
– Travis from the Waterworks Lamson Reels group landed a 26.5-pound fish, his biggest ever!
– Marina, apart from catching her biggest dorado, landed a beautiful 14-pound dorado on a mouse… on a dead drift among logs, and a very nice silver Pira Pita with the same fly. 
– Some returning guests from the Barry and Cathy Beck's group got their personal best dorado, big congratulations to them as well! 
By Fabian Anastasio 
Fishing Manager – Suindá Lodge