Welcome to Suindá Lodge, on the remote Upper Paraná River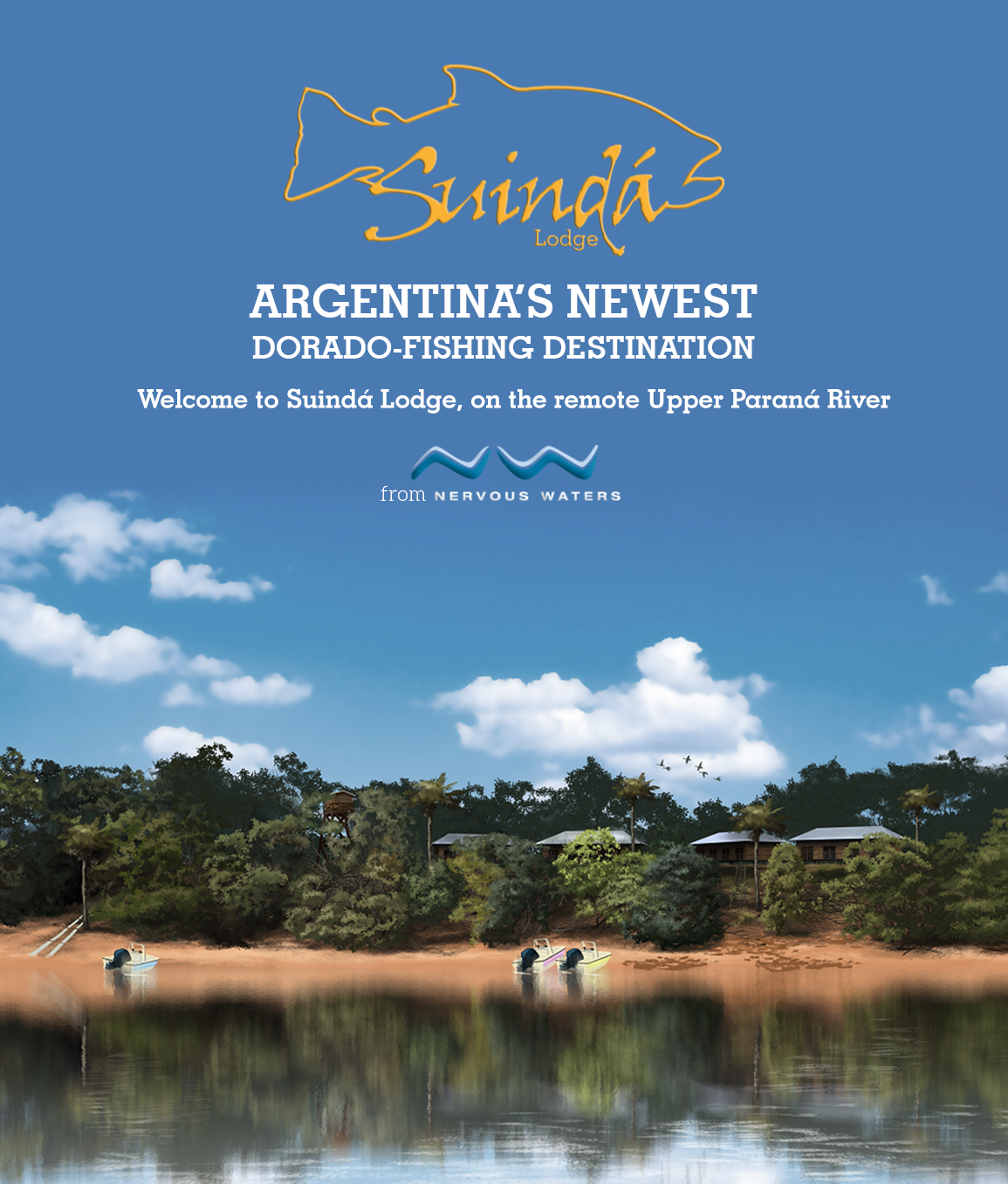 Starting in January 2019, Nervous Waters will officially open its newly built Suindá Lodge. Suindá is a dorado-fisher's dream, strategically located near the town of Itatí, in the province of Corrientes.
The region houses one of the most productive sections on the Upper Paraná River, a clear-water fishery that consistently kicks out good numbers of large dorado. Its secret lies in its structure: generally fast-flowing runs, coursing over beautiful rock gardens. You'll also sight-fish sandbank zones, where, when the conditions are right, colossal dorado hunt sabalo baitfish that seasonally congregate in big schools.
Great fishing awaits you at Suindá. You'll also find incredible dining and lodging. Suindá's deluxe wood-structure living quarters are perched on a high bluff for breathtaking views of the sprawling river and its wild, jungle-like surroundings. The remote riverfront property includes four spacious, two-bedroom "cabañas", with private bathrooms. Wooden footbridges connect each room to the main dining hall. From there, it's a short walk to the river, where your expert guides and their state-of-the-art boats are waiting.
The Itatí section of the Paraná marks part of the border between Argentina and Paraguay.
New 21-foot Marsopa boats, with 150HP, 4-stroke Yamahas, and front and back fishing platforms.
Grand-slam diversity with resident pirá pita (Brycon orbignyanus) and pacú (Colossoma mitrei).
The river flows clear along fishy banks, sandbars, boulder-gardens, and islands that create deltas and smaller riachos (streams).
One-hour nonstop flights are available from Buenos Aires Aeroparque Domestic Airport (AEP) to Corrientes (CNQ) or Resistencia (RES) airports on a daily schedule. The two neighboring airports are located 40 minutes from each other by car.
Suindá will house eight anglers (max capacity) for its inaugural season beginning on Jan. 1.
Book your trip today and be one of the first
to explore this remarkable dorado fishery.