Top Flies for Rio Grande Trout… And How To Fish 'Em
By S. Dombaj and T. Burrell
Argentina's Rio Grande and its Rio Menendez tributary are home to healthy returns of migrating trout that can reach near-mythical proportions. In order to turn lore into reality, preparation is key. In this short series of articles, we intend to help you do just that by sharing tips and tricks—from our guide staff, as well as accomplished Rio Grande anglers—that will help you succeed.
Let's start by looking inside the fly box.
Flies, in all their glorious varieties, are designed to deceive fish by imitating a known food source or by provoking a territorial response. Some, of course, work better than others—and this is absolutely true on the Rio Grande, where over the years we've fine-tuned our "ammo" to best suit our quarry.
Here are 5 highly effective patterns that will surely turn your fishing guide into your best friend for a day, or a week.
1) Metal Detector Intruder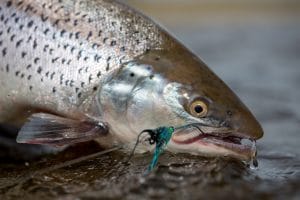 Intruders have become undeniably popular in the Pacific Northwest over the past decade. Designed to be swung across the river, they combine fast-sinking design elements and a great silhouette with the benefits of short-shank stinger hooks. The abbreviated shank doesn't provide the exuberant leverage of a longer shank, hence more twisting and turning fish will stay on once buttoned-up. Favorite color variations for the Rio Grande and the Menendez include Black/Chartreuse, Blue/Chartreuse, Black/Silver, or simply chartreuse. They are great flies for when the river blows out, when something that pushes a lot of water is required. Heavier versions are also a good choice for when the fish stack up in deeper pools.
Presentation: Depending on the water level, all line types apply. Mostly fished on a floating head with a heavy sink-tip. Cast down and across the pool, at a 70° angle. Let the fly sink with an upstream mend, swing it back to the near bank.
2) Green Machine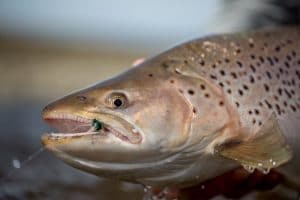 The Green Machine has revolutionized sea trout fishing over the last decade. It's an unusual looking bug, and it's extremely effective. There are two variants of the fly; the brown hackled green machine, and the white hackled green machine. I personally like the brown hackle, but I know many accomplished fishers who disagree.
Presentation: Use a floating line with a medium sink-tip and a long leader. As the fly begins the swing, slowly strip it back. By striping with the sink-tip you create a 'popping' motion under the surface. Sea trout love this! Usually better during the early season, but can effective throughout the year.
3) EMB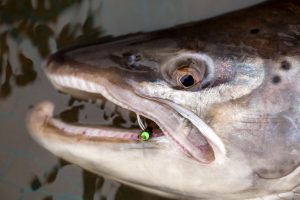 The EMB is a great low-water pattern. I don't know what it is about the rubber legs, but sea trout go mad for them. It's also a simple fly to tie, and I personally like to fish it with a full floating line and a very long leader. The fly has bit of weight, so with a long leader it will get down.
Presentation: Cast at a reasonably narrow angle down stream so it doesn't come around too fast. You can use an upstream mend to slow it down. Short, sharp twitches of the fly can be a very good producer of fish. The sharp twitches animate the rubber legs, which helps attract fish.
4) Sunray Shadow
The Sunray is a favorite of many veteran guides. Its long slender black style gives off a sand eel-like silhouette. Sea trout feed on sand eels in the ocean. They hammer Sunrays in the river.
Presentation: Cast the Sunray very square (90 degrees) across the river to allow it to swing with some speed. Long, slow strips can also be deadly. Often the fish will swirl on the fly numerous times before taking it. The eats are incredibly aggressive—a spectacular sight. This is another fly that works magically when nothing else is producing. I've even caught sea trout with a Sunray by casting upstream and stripping it back fast. Thus, a good tip with this fly is don't be afraid to fish it in unorthodox ways. Fast strip. Slow strips. No strip. 90 degrees. 45 degrees… You get the picture.
5) Squirmy Worm
Neither for the fainthearted nor the purists amongst us, the squirmy worm is a controversial pattern. It polarizes the sea trout and salmon community because it blurs the lines between modern and classic, artistic and artificial. What it does most of all is regularly catch fish under low-water conditions. And if that's the only reason to have it, let us a reassure you, it's a good one. The Squirmy stems from the nymphing competition scene where it has earned its keep as a world championship-winning pattern during high and off-colored water conditions. Most commercially tied Squirmy Worms are trout and grayling patterns. That's why we strongly suggest tying your own version on a proper heavy-nymph or carp-style hook.
Presentation: Floating line, upstream with an indicator. Or short-line nymphing on a tight line from the high bank (cutbank pools).