Dorado Fishing on Sandbars, By Fabian Anastasio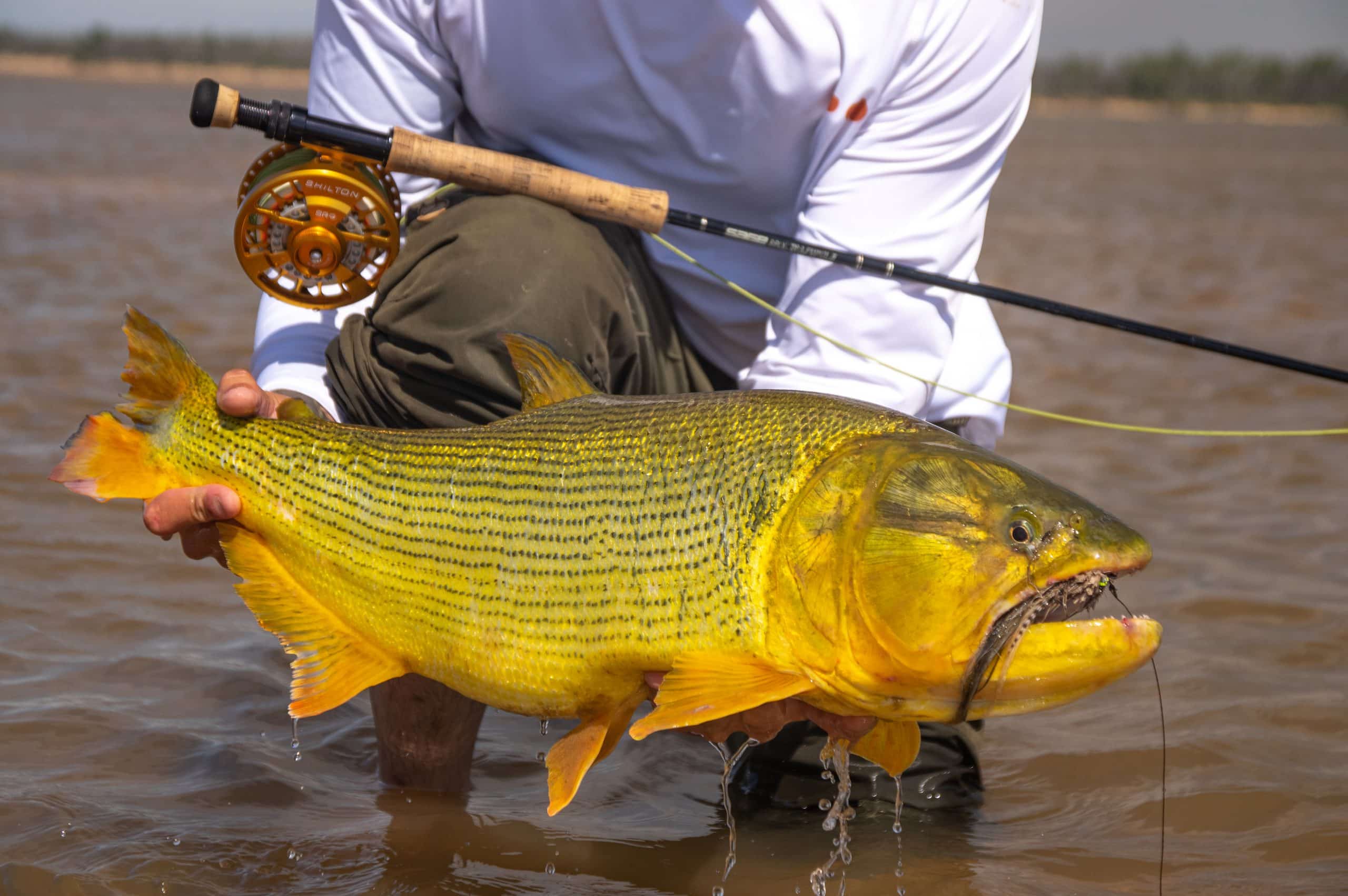 Golden dorado fishing on Sandbars in the Paraná River is an incomparable experience. Sight fishing and stalking them in inches of water is one of the biggest challenges we can face as anglers.
It is essential to find a sandbar with enough bait to expect to find dorados around. Most of the time, because of the sunlight, mornings and middays are more productive. 
While fishing the sandbars, we experience everything from explosive feeding frenzies to very gently patrolling fish in the shallow waters. This makes every dorado encounter on the flats a dynamic experience and one that keeps anglers obsessed with experiencing more. 
It is important to have a close look at these flats to check if dorados are moving among bait schools, sometimes they do it so slowly and gently that you can not see without trained eyes and a sense of fish movement.
That is why reading the body language of the sábalo (bait) will help you to decide what to do. First, we need to understand what the dorados are doing. We could divide the situation into two to make matters simple:
Feeding frenzy: Easier to see them, explosive attacks.
Patrolling: More difficult to see them, most of the time the sábalo will tell us where the dorado are getting too close to the school for comfort. 
Tips:
Dorados are very difficult to spot, even if they are big. Their coloration and the sand color are similar, so you might not see them if they are already too close to you. That is why it is extremely important to learn to read the body language of bait.  
If the dorados are really aggressive, they will push bait making big waves trying to catch one of them, if they are more in a "checking around mood", they will do it gently and you might see the bait moving slowly to avoid them. 
Once you spot a Dorado, or at least to understand where it/they might be, the cast has to be very accurate and quick, most of these opportunities last seconds, giving anglers and guides little time to react! If it is possible to see the dorado, the cast has to be on the nose of the fish. This elicits the best reaction strikes because if the cast is too far in front of the fish, they may refuse it and take a real sábalo instead. 
Lines:  Heavy Weight-Forward Floating Lines matched to 8-10 WT rods 
Leaders: Heavy mono or fluorocarbon (40-80 lb break strength). It is not about the strength of the material, but rather the diameter of the material.  This will help you to make quick casts, remembering that apart from the big fly, you are also casting a heavy piece of wire.
Bite Wire: from 40 to 65 pounds. Depending on the size of the fish you are targeting. 
Flies:
From light, small streamers, to big poopers. It will depend on the mood of the dorado, and the tenacity of the angler.