End of season: June – July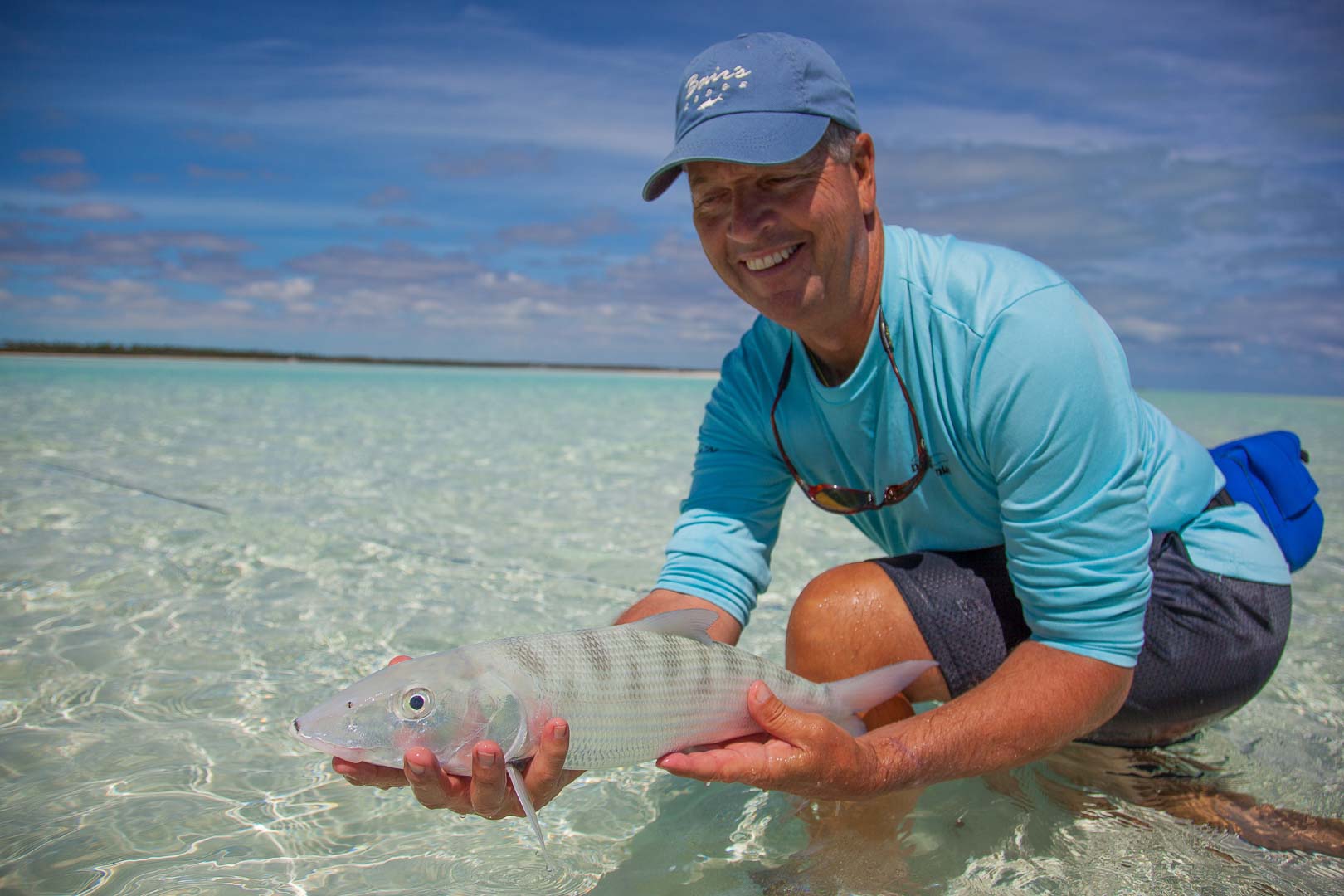 As we come to the close of another season in Abaco and reflect on the highlights of the past year, it has certainly been one to remember.  With tarpon, permit, barracuda, sharks and countless bonefish landed, anglers enjoyed awesome fishing throughout and the stories were endlessly entertaining.  We enjoyed the company of industry icons who hosted their own groups this past May, including fishing greats, Flip Pallot and Lefty Kreh, who delighted groups with their vast knowledge and legendary tales.  Fly tying guru, Drew Chicone, and fly casting master, Joe Mahler, also treated eager anglers to Bahamas bonefishing and helpful tutorials.  Orvis paid us a kindness by bringing in a great group for a salt water fly fishing school, hosted by Orvis' own, Pete Kutzer.  Pete was truly a great host and teacher, and was incredibly giving of his time and knowledge with each individual student.   It was a great year to be at the lodge for both novice and seasoned salt water fly anglers.
"Sammy", the house dog, made his own valuable contributions this season by donating bits of fur in order for Flip, Drew and Pete to try their hands at creating a new, "go-to" bonefish fly!  Most notable was Drew Chicone's "Slammin' Sammy" fly which caught about 25 bonefish before being completely demolished!
We rounded out the year with Bonefish & Tarpon Trust conducting a genetic study which included tagging and fin clipping approximately 700 bonefish around the marls.  BTT's Justin Lewis also took time to offer some education to kids who participated in our one day fishing camp, hosted by Friends of the Environment, which grants local kids the rare opportunity to learn more about their land and water resources.  If you would like to follow BTT studies and/or Friends of the Environment local initiatives, you can follow them here:
Friends of the Environment local initiatives WEB – FACEBOOK
Now, moving into the off season, we start to think about lodge maintenance projects and playing tourists ourselves, and reflect very fondly on the great times we've enjoyed with returning friends and the plethora of new friends we've made this year.  Please allow us to express our most sincere thanks to all of you who took part in making this an incredibly memorable season.
So, until October….get those lines wet and lodge dates set!!
Anne and Ken Perkinson
Abaco Lodge Managers