Pirá Lodge – End of Season Report 2017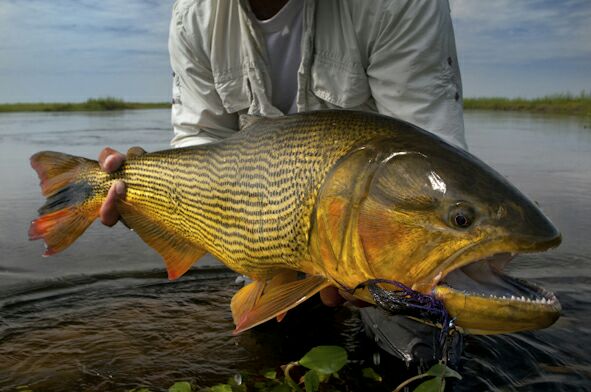 A Year in Review
Pira Lodge's season began with great weather, ideal water conditions, and a remarkable push of dorado. Expectations were understandably high and on the Corriente River they would soon be met and even exceeded. Mixing it up between throwing streams and skating mouse patterns we prospected for players and found consistent hookups with both sinking and floating-line presentations.
As the season progressed, water levels dropped and temperatures climbed. So we ventured into the marsh for a little shade. The fishing remained good, using mainly floating lines and targeting deer-hair loving, surface-oriented dorado. In addition to goldens, we found pira pita paradise—a surprise considering how few we typically catch in the marsh.
A number of fun-timing guests joined us this season, including a few first-timers. Mark from the UK, for instance, landed a 15-pounder during his initial outing. Peter and Sheryl, on the other hand, joined us for the fourth time, which turned out to be their best time yet. Another memorable guest was Wayne H., who caught the biggest fish of the summer: 17 pounds. That was until our friend Hernan bested him with a beastly 20-pounder to close the year. In addition to those two big fish, we landed many in the 12- to 15-pound range all season long. Linda N., who traveled from Alaska to Pira by herself, had a wonderful time playing with these double-digit dorado.
Rain season came late in the summer. During January and February, water levels consistently dropped… and the fishing was consistently great. But by the beginning of March, storms rolled in raising the water-table and effectively cooling it down. The weather brought some changes to the fishing, too: baitfish flooded into the side-channels and lagoons. The dorado followed. And so did we, finding success in the margins.
Overall, guests hooked and landed an impressive 1,507 dorado this season—from 4 pounds up to 24. For us, this was the best season we've seen and it was a pleasure sharing the beauty of this place with you. Thanks, and come back soon.
—José Caparrós
Fishing Manager, Pira Lodge