In pursuit of a pioneering way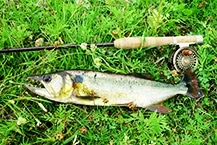 Between dorado sessions, the Home Pool at Pira can be one of the most incredible places for those who enjoy the subtleness of ultralight flyfishing, with 000 to 2-weight rods.
This little cut where we dock our flats skiffs offers a microenvironment of varied underwater habitat awash in slow moving seams and swirling eddies. Even the regular movement of people helps attract a diverse range of species that you'll be hard-pressed to find anywhere else in the marsh.
Many of these exotics are not the kind of fish we dream to catch on a trip to Pira Lodge. But quite a few of them, particularly those little critters that most anglers ignore, with the right tackle, can provide not only great fun, but also interesting flyfishing lessons.
During normal high-water conditions this intimate fishery is at its best. Some seasons as many as 12 to 15 different species frequent the Home Pool. Most of them will surely not ring a bell among anglers from other countries, but think for a minute: When was the last time you intentionally caught a fish that you didn't even know existed?
Yes, visiting flyfishers might catch "unknown" species while trying for celebrity fish like dorado. But they've usually overpowered them with heavy gear and, probably, are a bit insensitive toward these secondary catches.
We've all been there. Modern approach to this sport, hobby, or art—whatever you want to call it—involves ingesting a huge amount of information that, in a way, reduces the surprise factor that old school anglers were prone to experience…. Long before the Internet age. At the Home Pool, with a light set-up and an open mind, the pioneering experience lives on.
So if you're heading to Pira Lodge this season, be sure to sneak a little rod and reel, a couple spools of wispy tippet, and a miniature box full of dry flies and micropoppers into your kit. That's the advantage of small fishing outfits: You can carry them around all day and barely notice.