Kau Tapen Lodge – Week 3: January 15th to 22nd, 2022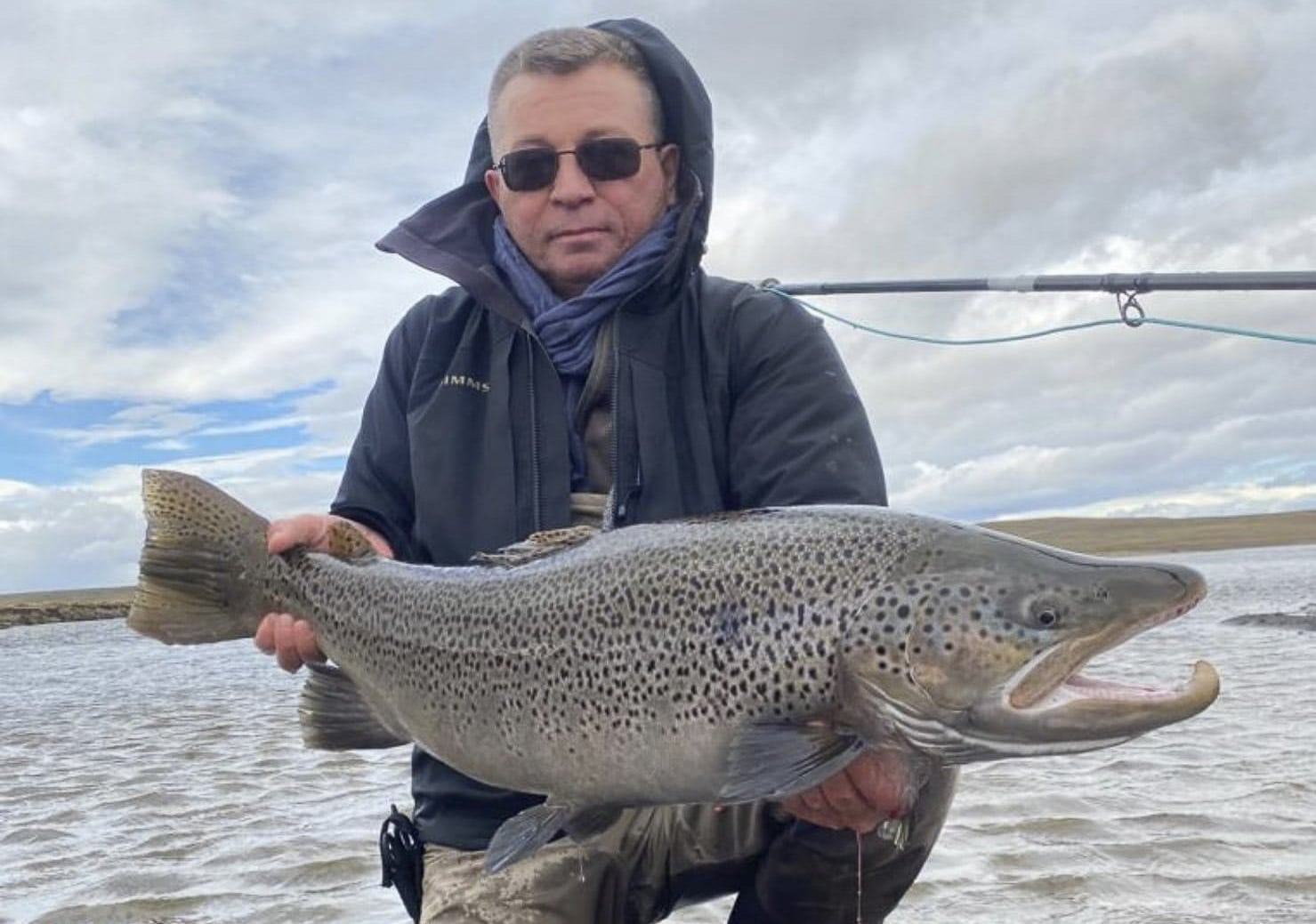 This week we were excited to welcome guests from the UK, USA, and Russia. A few returning faces were mixed in with many anglers who were either brand new to sea-run brown trout fishing in the southern hemisphere or fly fishing altogether. Still, all were eager to get on the water and learn about the intricacies of swinging a fly to anadromous fish.
            Conditions were tough right off the bat, as the group arrived to heavy rains all over the Rio Grande area. This was a blessing in disguise, however, as the river really needed a bit more water to come into shape. While it was low and clear on the first day, we awoke on the second morning to a significant two-foot rise and off-color water in both the Grande and the Menendez. Igor wasted no time and on the first morning came tight to a few fish immediately. After warming up with a beautiful fresh 13 pounder, he landed the fish of his dreams, a magnificent 93cm, 21b male sea-trout. In the off-color water, big flies were the ticket to some fantastic takes, although it was a bit of work to cover the water to find fish. The second evening we had good news, with clearing water, but a new set of challenges began to manifest in the days to come. 
            After the initial rise, the river began to drop quickly below its original point. While it came up around two feet to begin the week, it dropped about two and a half. This combined with warming water temperatures to 17C made for difficult fishing in the middle of the day and early afternoon. Winds also blew from the wrong direction, which hindered fishing ability to a significant degree. While there are some pools on the Rio Grande that can accommodate an easterly wind, it is not the norm and both guides and guests had to persevere to achieve success. 
            Significant catches still came in despite the tough conditions, including an 18lber for Jeremy and back-to-back 16 and 17lbers for first-time spey caster Rick. As he got more into the swing of things, Rick put on a show landing a 20lber and 19lber in the two final days, a fantastic result for never having held a two-hand fly rod before! The final evening, a buzz was in the air at tapas night, as phones were shown around with pictures of trophy fish. Jeremy's 15lber, Richard's 16lber, and Robert's 17lber were all highlights. All in all, some serious quality fish were landed through the week and each angler managed to put a memorable one into the net. Under these conditions, the hard work of our guides was evident to end with this result.
            Currently, a bit more rain is on the horizon and with last week's full moon tides, more fresh fish are entering the river every day. Even during a tough week conditions-wise, the Rio Grande managed to give up more than a few of its special trophies and we are all excited to see what develops in the weeks to come.
For current updates from the river, be sure to follow our social media accounts (@kautapenlodge and @nervous_waters). Thank you for joining us to appreciate this special place and we hope to see you all on the water soon!
Tight Lines,
Max Kantor – Kau Tapen Guide 2021/22