Kau Tapen Lodge – Week 4: January 22nd to 29th, 2022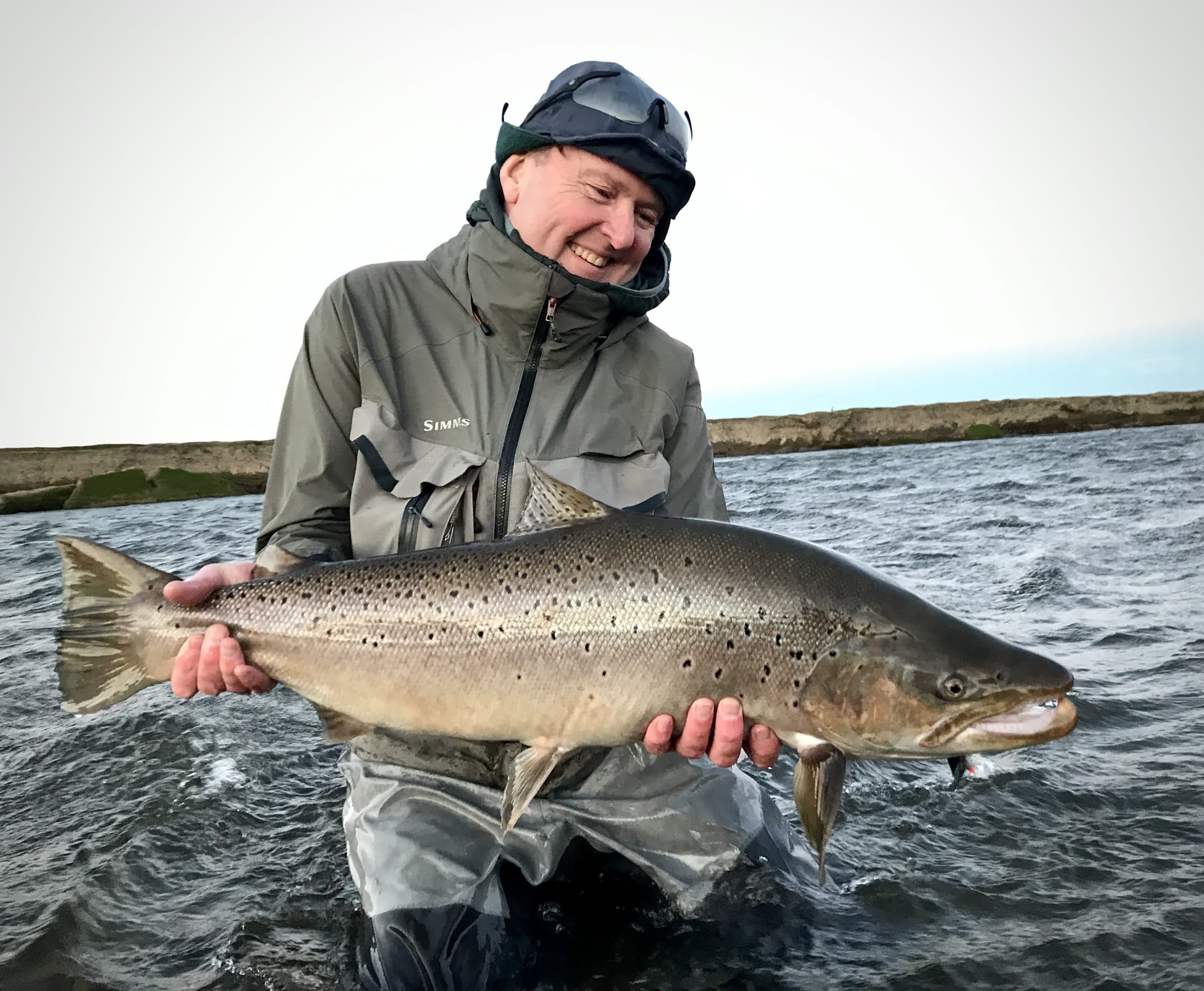 Last week's full moon tides and rain had us full of anticipation as we welcomed a group of guests from Norway, the UK, and Argentina. As always, many returning faces were present on arrival day, along with just a few newcomers to the Rio Grande's sea-trout. The water was still quite low to begin the week, but by the end of the first day the fishing picked up for almost all despite the tough conditions. Notably, Hans warmed up with back-to-back 14 and 17.5lbers from the lower river and Mark landed his first Argentine sea-trout before following it up with one larger of 14lbs. 
            Day two brought heavy wind in the morning, at least from a westerly direction that decreased a bit in the evening. Didrik was on fire in both sessions, landing two chrome bright 15 and 16lb fish in the morning and ending his day with a 92cm male of 21lbs. The big fish took fairly early in the evening session and was landed after a few strong runs and spectacular jumps. Once these big males sit in the current it can be very difficult to turn them, yet a lifetime of playing large sea-trout and salmon gave Didrik the upper hand this time. These trophy fish are no doubt here and any cast in this river can produce a memory to last a lifetime. 
            There was a slight 10cm rise in the water on day three, although it quickly dropped to its previous level. Despite the low water, mid-way through the week, it was evident that the fish were here. Every day more and more were seen showing themselves in both the upper and lower sections of our waters. Catches that evening skyrocketed including three fish for Hans in one of the upper beats and two for Helge. This included three fish over the 10b mark. Francisco landed a beautiful bright 19lb hen in the lower river. This fish was extra special because it had barely spent any time in the river at all, as its girth was 50cm. Only here can one find a fish of these proportions! Mark had a fish just over 17lbs as well, capping off a great evening with 8 fish over 10lbs brought to the net between the group. 
            As the week continued on, the water continued to drop below its pre-rain level, leaving us in need of a bit of rain. Catches for the last few days were still consistent and many smaller fish were brought to hand. Now, a "smaller" fish here is still a sea-trout of 5-8lbs, well above the average anywhere else and these fresh "rugby balls" do not fail to put a smile on the face of any angler. Fish were still seen in all beats, including over 20 showing in some pools, proving that the bulk of the first run is here. As far as techniques, low water tactics prevailed in the latter part of the week, necessitating a bit softer presentation when the wind decided to drop. 
            Regarding wind, throughout it week it blew from every possible direction, creating challenging conditions at times. Paired with the low water, this did not make for easy fishing, but the payoff was sweet in bright silver. Some fish were landed on the Menendez in the lower section as well, as this is an excellent option when added to our lower beats. The water on this small tributary also continued to drop throughout the week, but fish were caught before it had cleared too much. Roberto landed a fantastic bright male of 15lbs here and other fish of the same size were seen and hooked as well. 
            All in all, it was a fantastic week with a great group of anglers who were willing to battle tough conditions and put the time in for a strong result. As you can see by the photos below, trophy fish were landed all around, but what is not shown is the persistence and rod time required to tangle with them. Our guides are always here to help with that and all worked hard this week to get the most out of the river. It is truly a team effort to pick apart the Rio Grande and coax the trout of dreams into taking. While the water is still very low, there is no doubt that the fish are here and we are all excited to see what develops in the weeks to come.
For current updates from the river, be sure to follow our social media accounts (@kautapenlodge and @nervous_waters). Thank you for joining us to appreciate this special place and we hope to see you all on the water soon!
Tight Lines,
Max Kantor – Kau Tapen Guide 2021/22