Villa María Lodge – Week 4: January 21st to 28th, 2022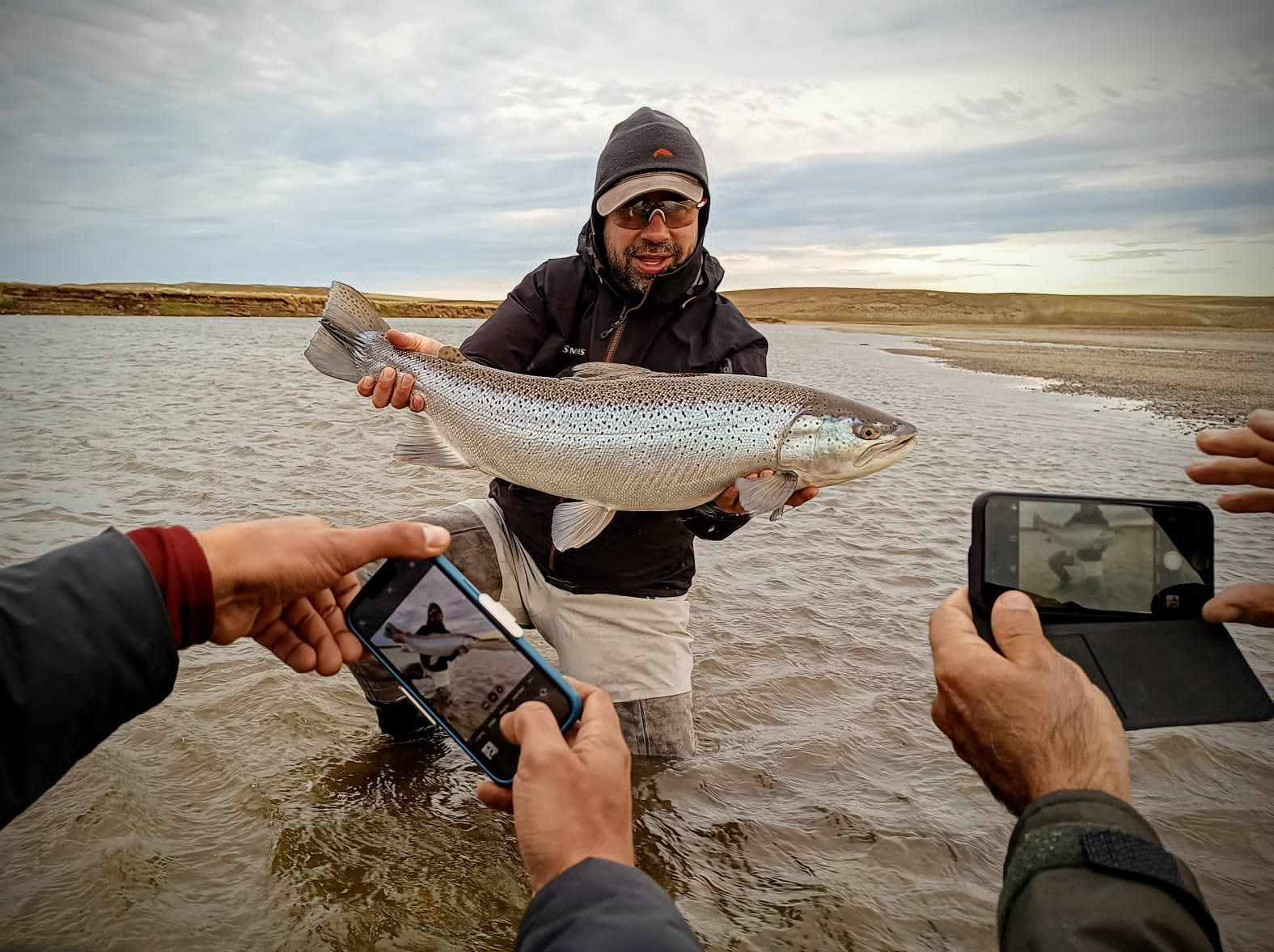 As we saw the progress in the last couple of weeks, the river is looking in prime condition, a very comfortable level for fishing, and the clarity is about as clear as it gets. The water level has continued to drop throughout the week making the fishing even more enjoyable as wading became super easy and casting can be short and precise. The weather experienced during the week was interesting, to say the least, with relatively cool temperatures to start the week and unusually warm days on the last 2 days of the week. This caused water temperatures to be pretty unstable. It is common that the Rio Grande, as a relatively shallow stream to be colder overnight and warm up all the way to 4 pm to start losing temperature again, but this past week the difference between highest and lowest was more notorious. We recorded 8 degrees Celsius at its coldest and 18 degrees Celsius at its warmest. According to that, you have to be pretty careful to choose the line+fly combination
The usual Tierra Del Fuego westerly blew for the most part of the week with winds blowing more from the north or East on occasions. The wind from the East brought along some scattered rain showers that passed quickly over us.
The clear water and dropping water level conditions were not a barrier to use bigger than usual -for this time of the year- flies. According to the conditions we should have been using a wide variety of nymphs, rubber-legged patterns, and/or green machines as the prime choices but, as pointed out, we were surprised that the fish kept taking happily larger patterns like articulated leeches even under sunny conditions which made things in a big part much easier for the guides.
Line-wise, the choice remained tied to the combo of pool depth+water temp+sun brightness so there was not a standard recipe. Usually starting with a short and slow sinking tip is the best call and according to the fish's reaction (or lack of it), you can choose heavier tips on each pass.
The run of fish looks like it has started to be more solid and predictable and the speed of the fish running upstream seems to be still fast. This makes every session to be completely different than the one before and tricky as there was not a handful of places to find the fish but every pool was showing great activity if you were lucky enough to find the school of running fish going through it. So the best strategy to be successful was to stay restless and put a fly in almost every pool or lie you found.
This is just starting and everything is getting better week after week!
Largest fish of the week: 19lbs
For current updates from the river, be sure to follow our social media accounts (@villamarialodge and @nervous_waters). 
By Alejandro Martello – Villa María Lodge Fishing Manager